Dental Night Guards
Many people grind and clench their teeth at night. Typically the canines and incisors move against each other laterally which, over time, breaks down the tooth enamel, removes the sharp biting surfaces and flattens the edges of the teeth.
People who suffer from Bruxism will sometimes grind their molars (back teeth) together, oftentimes loud enough to wake a sleeping partner. Given enough time, dental damage is likely to occur and will result in significant tooth loss.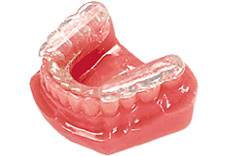 Most people are not aware of their bruxism. When left untreated, patients may also begin experiencing symptoms such as jaw pain and headaches. Unfortunately, there's no known cure for this condition. Ongoing management of bruxism is based on minimizing the abrasion of your tooth's surfaces with a custom fitted night guard designed to fit the shape of your upper or lower teeth.
Getting Fitted for a Custom Dental Night Guard
We make our Night Guards from start to finish at Accusmile Denture, Guaranteeing you a perfect fit.
The denturist takes impressions of both your upper and lower set of teeth. Then creates an accurate mold of your teeth in our laboratory. It typically looks like this:
After the mold is made, we heat a piece of acrylic or soft laminate and form it around each and every tooth, crevice, nook and cranny; hence the term, 'custom fitted' night guard.
Night Guards are finished on the day of the appointment, so if a patient comes in the morning, the night guard will be ready by late afternoon. The cost will depend on the material chosen to make the night guard.
For more information or to receive a free consultation, please contact us today!