Full (Complete) Dentures
"Dentures can be a benefit to you whether you are missing all – or just a few – of your natural teeth. Your new dentures can be made to resemble your own natural teeth so that there is little change to your appearance. The dentures will improve your look by giving you a more confident smile and help fill out the appearance of your face and profile."
There are several types of dentures available. Their costs vary depending on the choice of materials used: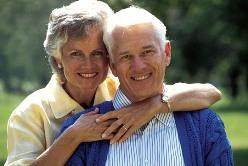 Full Dentures
Full dentures are for patients who have lost all of their natural teeth in the upper jaw, lower jaw or both. Full dentures restore confidence in your appearance and help you speak and eat normally.
Conventional or Standard Dentures
Once the bones and gums have healed following extractions of the natural teeth, a conventional set of dentures can be made. While the waiting period between extractions and receiving the dentures can be frustrating, the dentures normally fit right the first time since the new shape of the mouth and gums has been established. Conventional dentures are also the most affordable option.
Immediate Dentures
Immediate dentures, as the name implies, are placed immediately following the extraction of the natural teeth. The advantages are that you don't have to face the world without teeth, can eat normally much sooner than with conventional dentures and won't have the speech problems associated with the conventional denture process. However, since healing may affect the fit of immediate dentures, they may require further adjustment to fit properly. Immediate dentures will typically need a reline within 6 months of their initial placement.
Natural-Looking, Cosmetic or Premium Dentures
Instead of traditional plastic prosthetic teeth, natural-looking cosmetic dentures are made with modern composite teeth. The teeth are usually individually crafted and resemble real teeth more than the plastic variety. Cosmetic dentures also have a more natural looking support structure, and although they may cost a bit more than conventional dentures, they are very difficult to distinguish from real teeth. The premium denture is far more superior, more actual in size and measurements, much more durable and can last up to 10 years. Premium dentures also come with a 10 year warranty on the structure of the teeth.
For more information or to receive a free consultation, please contact us today!