Denture Repair
Denture Repair can remedy most broken dentures to a like-new, useful condition, where the broken dentures pieces can be reconstructed professionally using real denture acrylic material.
"People who wear dentures on daily basis occasionally experience a broken denture caused by various reasons such as the age of the denture, eating hard foods, an accidental fall onto the floor or even damage caused by a pet. During a denture repair, the broken denture's pieces are professionally reconstructed using only a denture acrylic material in order to restore it to a like-new and useful condition."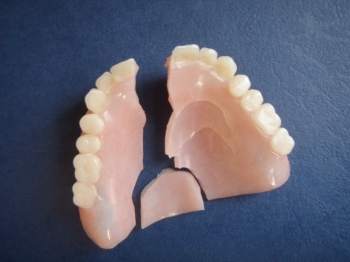 At Accusmile, all repairs are done on-site and usually within an hour. Walk-ins are welcome!
Denture repair is affordable and can greatly prolong the life of your denture.
Accusmile prides itself on using the latest techniques and materials in denture manufacturing and repairs.
Whether it's missing a tooth or broken into several pieces, Accusmile guarantees 95% of all denture repair cases.
The MISCONCEPTION about Denture Repair Glue
One common misconception is that denture repair service professionals use a glue to repair broken dentures. Damaged teeth or cracked dentures should never be repaired with cement or any kind of denture glue. When repaired correctly, the denture teeth or cracks are fixed with the same materials used to fabricate the denture. Cement and glue are inadequate for repairing acrylic gums or teeth. At Accusmile, we make sure the denture is repaired with denture acrylic: the repair will be undetectable and last much longer.
For more information or to receive a free consultation, please contact us today!