Dental Whitening Trays
Tooth Whitening (Bleaching) Trays
Teeth bleaching trays are doing wonders for millions of North Americans each and every day by dramatically whitening their teeth. We live in a society that primarily judges you on your looks, so in order to advance in such a society; you would need to conform to the demands of that society. In this case, you would need to improve your overall appearance, and the latest fad is Tooth Whitening. Everywhere you look, on TV, everyone has a glimmering set of pearly whites, smiling at you.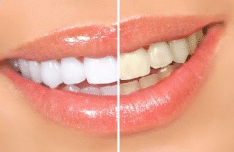 If you are concerned about the appearance and color of your natural teeth, whitening trays may be the answer.
Teeth Whitening Risks
Teeth whitening treatments are considered to be safe when procedures are followed as directed. However, there are certain risks associated with teeth whitening that you should be aware of:
Individuals at the greatest risk for whitening sensitivity are those with gum recession, significant cracks in their teeth or leakage resulting from faulty restorations. It has also been reported that redheads, including those with no other risk factors, are at particular risk for tooth sensitivity and zingers.
Whitening sensitivity lasts no longer than a day or two, but in some cases may persist up to a month. Some dentists recommend a toothpaste containing potassium nitrate for sensitive teeth.
Gum irritation: Over half of those who use peroxide whiteners experience some degree of gum irritation resulting from the bleach concentration or from contact with the whitening trays. Such irritation typically lasts up to several days, dissipating after bleaching has stopped or the peroxide concentration lowered.
Technicolor teeth: Restorations such as bonding, dental crowns or porcelain veneers are not affected by bleach and therefore maintain their default color while the surrounding teeth are whitened. This results in what is frequently called "Technicolor teeth."
Here's How Teeth Whitening Works
A whitening gel is placed in a tray that fits over the teeth. As the active ingredient in the gel, carbamide peroxide, is broken down, oxygen enters the enamel and bleaches the colored substances. The tooth is made lighter and whiter, but the structure of the tooth is not changed. However, Fillings, Crowns, and Bonding will not lighten.
For more information or to receive a free consultation, please contact us today!