Denture Before and After Results
It is difficult today to get affordable dentures that look great and function well. I hear the frustrations of denture wearers who pay large sums of money only to be disappointed. They have dentures that look like dentures and really just don't fit.
Do you recognize any of these symptoms or problems?
Do you have the confidence that no one can tell that you are a denture wearer?
Are ill fitting dentures making you uncomfortable and making chewing difficult?
Are you aware that a poorly fitting denture can cause premature aging?
Are you interested in Quality and Affordable dentures that provide for an Active Lifestyle and a Carefree Smile at Affordable prices?
Why it is so difficult today to have a denture made that looks great, functions well and is affordable?
High quality dentures custom fitted by a Professional
As a young man I trained as a Dental Technician. A Dental Technician does the denture work for Dentists. My work was very frustrating as in more cases than I would care to remember, I would receive impressions that where less than adequate to construct dentures from. I would never see the patient to whom I was going to make the dentures for, or be able to discuss the matter with the patient. I would finally receive wax bite rims with the center line sometimes marked by the dentist and the note for me to pick teeth and finish the dentures
Does that sound like a good way to construct personalized dentures?
Replacing your natural teeth is more than trusting someone with your smile. Your appearance and your entire image are at stake. As a Denturist I have become an expert, very experienced in the design, construction, fitting and adjustments of complete and removable partial dentures, as well as over dentures on implants.
Denture Before & After Photos
Aside from the obvious, also notice the more Confident & Relaxed Smiles!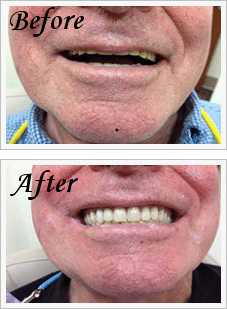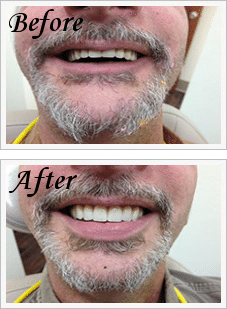 Before – Problem denture looks like a denture
It is true that a picture is worth a thousand words.
As a denturist, I have been confronted on too many occasions with dentures that look like dentures; cheap one shaded plastic teeth. The images the unfortunate patients convey have little in common with their previous youthful and vigorous smiles. Invariably my patients have but one wish. They want their wonderful smiles back again. Dentures changes, if properly designed and fitted, can help patients recapture their youth. It is always my goal to design new dentures so they will convey the appealing image of a significantly younger person. Much can be accomplished. For one example, I can ensure the correct positioning of the teeth to determine proper lip support and establish an automatic, natural smile line.
After – Solution-Dentures look like natural teeth!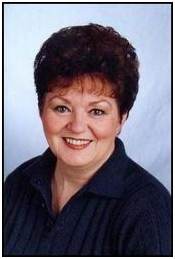 Notice the lovely full face of this patient.
Her previous dentures were totally out of harmony with her basic, attractive nature. The front teeth should be in direct proportion to the facial size and shape. Today, teeth should be fairly light in color. Even people who still have their natural teeth are spending small fortunes to lighten them. Why can't the full denture wearer have lighter teeth? If a person has their own front lower six, they can always be made lighter so that the new upper denture can be made from a lighter shade. As knowledge and technology advance, we can create the appearance you desire, giving you back your confidence, so that you can fully enjoy our life. And I just LOVE showing off the before and after photos of my patients.
Not all dentures are created equal
Always remember that a beautiful smile is one that has been shaped to your mouth by a recognized, qualified Denturist. Constructing a dental prosthesis is an art requires patience, meticulousness and experience. A Denturist is the undisputed master in this field, creating your dentures from Start to Finish.
Denturism is the art of constructing full and partial dentures and placing them in your mouth. It is a time-honored profession separate and distinct from dentistry. Denturism is the older of the two professions. George Washington, the first president of the United States, wore dentures. At that time, dentistry as we know it did not exist. However, men like Paul Revere practiced denturism with great artistic pride.
Today, dentists only construct three or four dentures while in school. They see their future generally in Crown and Bridge work. Once graduating, they send their denture work to a denturist.